In the Part 1  , we discussed common sleeping positions and which style of pillow typically works best for each type of sleeping position. In Part 2, we are going to cover different filling options and the pros and cons of each type so you can further determine which pillow would work best for YOU!
PILLOW FILLING OPTIONS: No matter what filling you end up with, I recommend that you find a pillow with a zipper so that you can add or remove filling. This will allow you to customize the pillow for YOUR needs.
Hybrid Pillows: Some of my favorite fillings for neck pillows are a hybrid pillow containing buckwheat and millet. This pillow is much heavier than your typical pillow, which means it stays in place all night long. This pillow is also like a bean bag in that you can move it around to contour it just for your needs. I often tell my patients, "make a little nest" for your head. This pillow can feel a bit firm for some patients. I have had patients remove some of the buckwheat and add in some shredded memory foam. You will have to play around with it until you get a ratio that works well for you.
Shredded Memory Foam: This type of pillow is usually universally loved as it is soft but supportive. You cannot contour it like a buckwheat/millet pillow but it still works well as a neck pillow. This is definitely my go to pillow for body pillows. As I mentioned earlier, buy additional shredded foam as you will likely need to add more filling to the body pillow.
Down/Down Alternative: I tend to shy away from this type of filling as it tends to compress and spread out throughout the night – in other words, it starts out feeling great but a few hours later you make wake up needing to squish or fold the pillow up to get the same feeling of support. This type of filling may work well for stomach sleepers who have to have a pillow (as long as there is small amount of filling in the pillow).
Solid Memory Foam: If you have a pre-contoured memory pillow that you love, then by all means stick with it! These type of pillows are not my go to as the type of contouring someone needs is very individualized. For this reason, I tend to have people try the hybrid or shredded memory foam pillows first.
There are lots of pillow options out there and I hope the above information helps steer you towards the right pillow for YOU!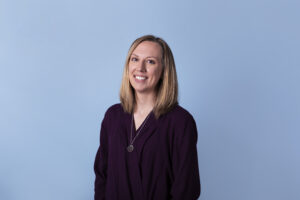 ABOUT THE AUTHOR
Dr. Etheredge is a physical therapist who specializes in treating patients with headaches, neck pain and dizziness. Many of her patients have multiple diagnoses and complex needs. Dr. Etheredge is certified and dry needling and has been using this modality for years to assist her patients in achieving their goals. Learn more about Dr. Etheredge here .