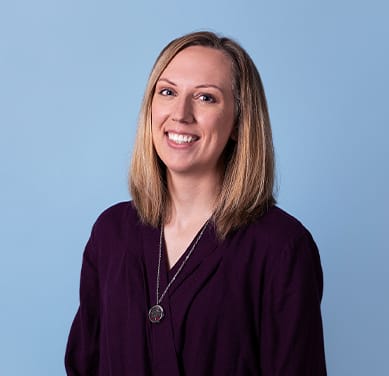 Sara Etheredge, PT, DPT, CKTP, CMTPT, CCI
Doctor of Physical Therapy
A personal message from Dr. Etheredge:
Hello! I'm a Doctor of Physical Therapy who specializes in treating patients with headaches, neck pain and dizziness. I went into physical therapy due to a personal whiplash injury that left me in pain for years. I understand the frustration, anger, and hopelessness that my patients feel as they struggle to recover.
Many of my patients have multiple diagnoses and complex needs. To meet the needs of my patients, I personally meet with each patient for a full hour, providing one to one care at every appointment.
At your first appointment, you will receive a thorough examination that is tailored to you and your needs. Together, we will create a custom plan to start you on your journey towards recovery.
At follow up visits, you will have access to treatments that offer an alternative to medication to manage your symptoms. I use hands on manual treatments to help you improve your quality of life. I'm also certified in dry needling as well as Kinesiotape application. We will work together to develop a customized home program that will empower you to take control of your symptoms.
You will enjoy privileges that are not seen in other facilities, such as open communication through email, phone calls outside of face-to-face appointments, and ability to borrow equipment to use at home.
You can see Dr. Etheredge directly or be referred from another healthcare provider.
More About Dr. Etheredge:
Education:
Dr. Etheredge graduated Cum Laude from The University of Mary Washington with a Bachelor of Science degree in Biology. She then went on to earn her Doctor of Physical Therapy degree from Virginia Commonwealth University. Since graduating, she has pursued several post-graduate certifications in dry needling, kinesiology taping and as a certified clinical instructor. She has obtained additional post graduate training in various manual therapy techniques, myofascial release, pain neuroscience education, and concussion management.
Experience:
During her graduate program, Dr. Etheredge completed training in several setting types. She trained in a general outpatient clinic treating patients with a variety of conditions from post motor vehicle collisions and falls to post joint replacements and reconstruction surgeries to flares in arthritic pain and chronic conditions. She also completed training in a sports medicine clinic where she worked with athletes to return them to play after sustaining an injury. Upon graduating, Dr. Etheredge split her time working in a general outpatient clinic and working in a neuro-based outpatient clinic. In 2013 she joined CCCV as the primary physical therapist to address the orthopedic needs in the underserved neurological community. Since joining CCCV, she has primarily focused on treating patient with complaints of headaches, neck, back and shoulder pain after an injury. She has extensive experience with working with neuromodulation to assist her patients in managing their headache pain.
Hobbies/Interests:
Dr. Etheredge enjoys spending time with her husband and two sons. She loves being outside, whether it  be working in the garden or taking her sons to a park. She also loves all things wellness and is always on the lookout for a new podcast or blog to follow.
Professional Affiliations:
Orthopedic Section of the American Physical Therapy Association
Neurology Section Member of the American Physical Therapy Association
 Virginia Physical Therapy Association (VPTA)
Publications:
Zasler, Nathan, and Sara Etheredge. "Post-Traumatic Headache: Knowledge Update". The Pain Practitioner 25.2 (2015): 19-22. Print.
Etheredge, Sara and Zasler, Nathan. ( 2014). Cefaly Neuromodulation for Post-Traumatic Neuralgic Headache: A Case Report. Poster session presented at the 9th World Congress on Brain Injury by the International Brain Injury Association, San Diego, CA.
Awards:
Carlton Jones Outstanding Clinical Instructor Award
Ready to learn more? Speak to a care
coordinator today and take the next step.