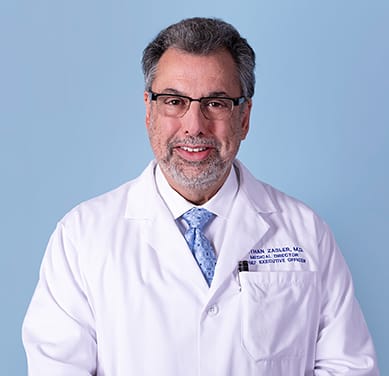 Nathan Zasler MD is Founder, CEO & Medical Director of Concussion Care Centre of Virginia, Ltd., as well as Tree of Life Services, Inc. Dr. Zasler is board certified in PM&R, fellowship trained in brain injury and subspecialty certified in Brain Injury Medicine. He is an affiliate professor in the VCU Department of Physical Medicine and Rehabilitation, Richmond, VA, and an adjunct associate professor in the Department of Physical Medicine and Rehabilitation at the University of Virginia, Charlottesville. He is Chairperson Emeritus of IBIA and currently serves as Vice-Chairperson. He has published close to 200 peer reviewed articles and authored over 60 book chapters.
Dr. Zasler has published and lectured extensively on TBI related neuromedical issues and edited 8 textbooks including "Brain Injury Medicine: Principals and Practice" now going into its third edition. He is co-chief editor of two international peer reviewed journals: "Brain Injury", and "NeuroRehabilitation" as well as chief editor of "Brain Injury Professional".
Dr. Zasler serves on over 10 international journal editorial boards. He is active in local, national and international organizations dealing with acquired brain injury and neurodisability, serving or having served in numerous consultant and board member roles. He has received numerous awards, been repeatedly recognized by "Best Doctors." and has also received numerous community patient awards for his clinical services. Dr. Zasler is an advocate, educator, clinical researcher, inventor, entrepreneur and busy practicing clinician who is involved with community-based neurorehabilitation, chronic pain management, and health care consultation, both clinical and medicolegal.
Ready to learn more? Speak to a care
coordinator today and take the next step.